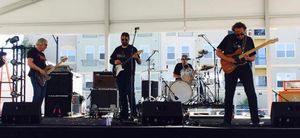 Band and Musicians
Another Tangent
Another Tangent is an original rock band dedicated to delivering passion, energy and fun to their audiences.  Revolving around the motto - "Never The Same Way Twice" - these four musicians breathe electrifying energy into each performance with music that makes you want to party - Rock and Roll its still the only religion that will never let you down!   
Be seeing Yez down front!  
Damian Breen
Rhythm Guitar/Vocals   
Half man, half Snuffleupagus, Damian was born in County Clare, Ireland, a region widely renowned for its traditional music. "Growing up, traditional music was everywhere - at home, in the pubs, in the streets, seeping out from the stones.  My earliest memory is of the singing around our kitchen table by my father, my aunts and uncles and our neighbors" says Damian.   As a teen working in New York, his exposure to Led Zeppelin, AC/DC, Jimi Hendrix, Rory Gallagher, Motörhead and Thin Lizzy changed his musical trajectory.  Breen describes what followed as "a long road"- many bands, many cities and a few countries in between.  Today, as a part of the vocal and guitar duo in Another Tangent, he says he has found a home. "I love this band! It is really sounding good at the moment and I'm loving the twin guitar attack.  I'm super excited and looking forward to many more musical adventures with the lads!"  
Jim Diehl
Bass guitar/Vocals   
Jim still plays the bass he bought with his paper route money when he was 14. Over the decades, he has played living rooms, campus clubs, bars and various larger venues with bands like Blue Larue, Aftershock, Torann Dub and others no one has ever heard of. His style is ridiculously busy, drawing mainly from the classics (of rock) to create a unique rumbling flurry of notes to hold the bottom end. 
Michael McGrath
Drums/Vocals (kinda)   
Mike has played in a bunch of clubs he doesn't remember playing at or refuses to admit to playing. He has worked in the studio off and on for many years and has collaborated with some artists you have heard of and many you have not. His claim of fame is the ability to drool out of both sides of his mouth regardless of how level the stage is.   He cites his major influences as David Briggs, Bill Ward, Jerry Shirley, Animal and that guy from Led Zeppelin.  
Tom Banducci
Lead Guitar   
"My father, a native of Lucca, Italy, had an amazing tenor's voice" says Banducci.  "As a kid there was a lot of singing and traditional Italian music in our house.  At age 7, I bought 'The Jimi Hendrix Experience' album and I still have it.  Hendrix blew my young little mind and I picked up the guitar at eleven".  No stranger to Bay Area clubs, Banducci mixes a love of traditional blues with his high-energy lead style and strong rhythmic balance.  After a string of cover bands and a Santana Tribute Act (he was Neal Shon), Banducci became another tangent in Another Tangent.  Major musical influences include:  Freddy King, Oliver Nelson, Pat Martino, Miles, Jeff Beck, Alex Lifeson, Clarence Gatemouth Brown and Wes Montgomery.